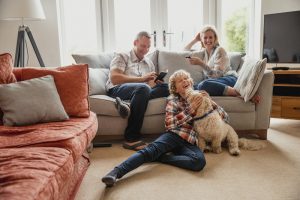 Summer is coming, which means that before you know it, temperatures will start to climb. Obviously, then, you'll switch on your air conditioner, sit back, and enjoy the cooling relief, right? Well, what happens if your air conditioner is incapable of cooling every space of your home… then what do you do?
Your attic is a space in your home that your air conditioner can't quite reach, which is kind of a big deal. Hot attic spaces can have a profound effect on your overall comfort and efficiency — so what do you do?
Well, installing an attic fan is a great way to combat the summer heat. Below, we have listed just some of the many benefits of installing one, so keep reading below to find out more!
The Benefits of an Attic Fan
Heat rises to the top of your home, i.e. your attic. This makes it a lot more difficult for your home's air conditioning system to keep you cool, as it's constantly trying to displace the heat gathering at the top of your home. An attic fan exhausts this heat to the outdoors so that your AC won't have to do so much work. When you have an attic fan installed by a professional electrician in Alabaster, you'll get to take advantage of numerous benefits:
Increased comfort: When your attic becomes too hot, it can make the rest of your home feel much warmer. By installing an attic fan, you can be sure that your home will be cool and comfortable all summer long.
Better efficiency: Your air conditioner has to work a lot harder when your attic becomes too hot, leading to decreased energy efficiency and higher cooling costs. An attic fan uses far less energy than a standard AC and will take much of the burden off of your system.
Longer roof life: A hot attic can have all sorts of implications on your roof, which of course, can lead to some pretty costly repairs if ignored. Therefore, installing an attic fan is a great way to protect your roof!
Fewer AC repairs: As we already mentioned, using an attic fan can help reduce the workload of your AC, meaning that it can last for a longer period of time with fewer operational problems and fewer repair needs.
So, What Are You Waiting For?
As you can see, there are plenty of benefits of installing an attic fan in your home, so why wait? All you need to do is pick up the phone and contact your local electrician to get the job done right!
Sure, there are going to be plenty of amateurs willing to perform this service for you, but remember, sometimes an attempt to save money can end up costing you much more in the long run. It is better to trust all of your electrical services to a professional to get the job done correctly and safely the first time around.
To schedule your electrical services, contact the team at Douglas Cooling, Heating, & Electrical today! Your experience is what matters most!