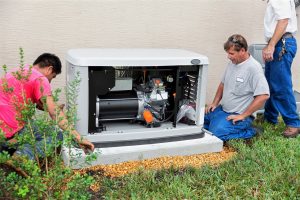 During a power outage, you want to be able to keep the heat on, use the lights, and keep your food fresh. Heck, you might even want power for your favorite video game system—we don't judge! But here's the thing, keeping your home and your family safe during a power outage is only possible so long as you've got a whole-house generator installed!
There are many benefits of owning a generator, and below, we have outlined them for you. All you have to do is keep reading to find out more, and of course, remember to contact our team when you're ready to install a whole home generator in Birmingham.
What Is a Whole-House Generator?
A whole-house generator is a larger system, compared to portable generators that are often stored in the house itself. The whole-house generator is installed outside the home and is permanently wired into the power system. Also unlike a portable generator, a whole-house generator does not rely on gasoline in order to provide power. Instead, the generator has its own natural gas line running to it. This ensures that the system always has the means to provide power available to it.
Among the most popular types of whole-house generators are automatic standby generators. These systems monitor the amount of power running through the home's power system at all times. When the power goes out, the generator activates automatically, first to cut off the home's electrical system from the grid, and second to begin to supply power directly to the household electrical system. When the power comes back on again, the generator shuts off and reconnects the house to the grid.
What Are the Benefits?
Whole-house generators are beneficial for a number of reasons. For one, they provide more than enough power to keep an entire house running, unlike a portable generator that only provides enough power to keep the lights on. Whole-house generators are also far more useful if you have higher power requirements, or if you have certain equipment (like medical equipment) that must remain powered at all times. With a whole-house generator installed, you can rest easy knowing that your power needs will be met, even in the middle of a large storm.
Ask a Professional!
If you are interested in having a whole-house generator installed in your house, then speak with a licensed electrician. Only a professional electrician can properly install your new generator and provide the services it needs to see a long and successful service life.
Remember, there might be plenty of amateurs willing to provide these services for you–but don't let them! Sometimes an attempt to save money can end up costing you much more in the long run. It is always better to call in a pro and get the job done right the first time around. Trust us, when it comes to your comfort, you don't want to take any risks.
Interested in a whole home generator? Great! All you have to do is contact Douglas Cooling & Heating to get started. Your Experience is What Matters Most!