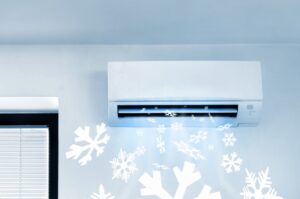 These days, there are a lot of options for cooling your home. There are central air conditioners if you have ductwork, and if you don't, you might have a window unit. There are even heat pumps to consider. But what if you're tired of window units, and your home doesn't have ductwork? Ductless AC systems, also called mini splits, are an option. But are they a good choice for our climate in Alabama? Yes! Here's why.
Versatility
Clearly, ductless mini splits are great for homes that lack ductwork. But the average age of a home in Alabama is 36 years old. Ductwork for central air conditioning systems started to be built into newly constructed homes in the early 1970s, about fifty years ago. Therefore, most homes in Alabama are likely to have ductwork.
Even if your home has ductwork, you might still want a mini split. Aging ductwork can end up pretty badly deteriorated. Cracks, tears, or holes waste that expensive conditioned air, leading to unreasonably high electric bills during Alabama's long, hot summers. Damaged ductwork can even cause damage to your air conditioner or heating system because of air pressure problems and dust and dirt being pulled into the ducts through the holes. A ductless mini split is a great alternative to replacing your ductwork.
Expansion
Perhaps most of your home has excellent ductwork. But if you're expanding your home, you might want an AC solution that doesn't involve using up the valuable space you're adding. If you're enclosing a garage or an attic, adding an in-law apartment, or building an addition, you can use a ductless mini split to cool that space without ductwork, and without putting extra strain on your AC system which was chosen with a smaller space in mind.
Efficiency
Ductless mini splits have multiple air handlers, whereas a central air conditioner has just one. This means that if you go ductless, you'll be able to control the temperature in different zones of your home. You won't need to keep the whole house at an ideal temperature if you're only using one room for hours at a time. This efficiency can be a huge money-saver.
Beyond Cooling
Your ductless mini split can just be an air conditioner. However, ductless heat pump systems are a perfect choice for Alabama's climate. Operating just like an air conditioner, they move heat from one place to another. But with the amazing reversing valve, they can switch the direction they carry heat, bringing warmth into your home in the winter.
And they're extremely efficient in climates that rarely drop below 40 degrees Fahrenheit—the most efficient form of heating that exists. If you're thinking about needing to replace your heater in the near future, this is the way to go: one piece of equipment that does it all.
If you have any questions about ductless mini splits in Pelham, AL, we'd love to hear from you.

"Your experience is what matters most!" Contact Douglas Cooling & Heating today for help with all your heating and cooling needs.