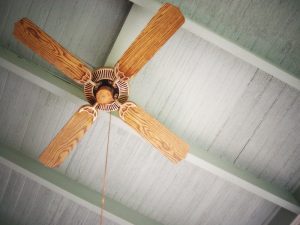 Homeowners are constantly asking us for tips on how to lower their energy bills during the winter. And almost always, without fail, they're shocked when we say to them, "Have you tried turning on your ceiling fan?"
While its 100% true that ceiling fans are great for keeping us cool in the summer, and that the number 1 reason why people have them installed is to lower their AC bills, they're AWESOME for boosting heating efficiency, too! Don't believe us? Well, keep reading below to find out more! Oh, and of course, remember to call our team when you need electrical services in Alabaster, AL!
Choosing the Right Ceiling Fan
If you want a ceiling fan that can boost your efficiency all year long, then there are some things to keep in mind when you're in the market for a new one:
Reverse Rotation: Not all ceiling fans can run in reverse, so make sure you're getting one that can!
Efficiency and Airflow: A high airflow fan is perfect for a garage or outdoors, but it might be too powerful for the indoors. Choosing the right airflow is key to finding the correct balance of comfort and efficiency.
Ask a Professional
Of course, you could always ask a certified electrician for help. Trust us, only a certified pro has the tools, knowledge, and expertise to help you select the perfect fan for your home! Plus, they'll make sure that your new fan is installed safely and correctly, the first time around.
And sure, there may be plenty of amateurs willing to offer these services for a fairly cheap price, but remember, sometimes an attempt to save money could end up costing you much more in the long run. Therefore, it is always best to call in a professional for help—see, when it comes to your comfort and your budget, you don't want to take any risks!
Interested in installing a ceiling fan in your home? Great! All you have to do is contact the team at Douglas Cooling & Heating to get started! Your experience is what matters most!