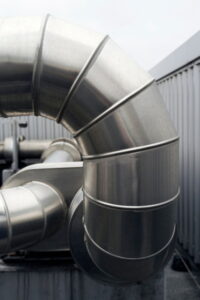 A large amount of heated or conditioned air is lost through cracks, holes, and other damage to ductwork. If your home's ductwork is leaky, 30% or more of your heating and cooling bills could be due to paying for wasted hot or cold air that escapes to unoccupied areas of your home such as your attic or between your walls.
Does having your ductwork replaced seem like an enormous, exhausting endeavor? It's actually quicker and easier than you might think. The best approach might be to have custom ductwork fabricated specifically for your home. Here are three reasons why.
1: It's Made to Fit
Prefabricated ductwork comes in standardized sizes. When you choose custom ductwork, your home will be assessed and a plan made that suits the exact size and shape of your home and the needs of the people who live there.
You won't have to worry about awkward shapes of cookie-cutter ducts or lots of extra joints and bends, which increase the likelihood of leaks. Everything will fit perfectly. And the width of the ducts is also critical. If they're too narrow for your HVAC system or your home's needs, they won't deliver enough heat or air conditioning, and if they're too wide, they will waste energy. Either of these problems can put a lot of strain on your furnace or air conditioner.
2: Efficiency
With brand-new, custom-fitted ductwork, none of your precious heated or cooled air will be lost to leaks and cracks. The custom design of the system to fit your home will provide ideal comfort without any waste. This will reduce your energy consumption, which is great for the environment. Beyond that, it is also fantastic for your budget. Replacing old, damaged ducts with new, airtight ducts can reduce the cost of heating and cooling your home dramatically. In fact, you could save hundreds of dollars each year.
3: Comfort
The loss of heat or air conditioning through ductwork leaks obviously leads to a less-comfortable home. But the precision and efficiency of heating and cooling with brand-new custom ductwork do more than just eliminate those big problems. It allows you to heat and cool your home more quickly and more evenly.
When adjustments need to be made—for example, when you arrive home after being gone and need to bring your home back to your ideal temperature—the comfort will be delivered without delay. 
While many companies only work with prefabricated pieces of ductwork, our team has the distinction of being knowledgeable about and experienced with the process of designing and creating ductwork that is precision-crafted for each customer's unique home. Are you concerned that you might need duct repair in Pelham, AL? We'd love to talk with you about your HVAC system, your ductwork, and how to make your home as comfortable as possible.

"Your experience is what matters most!" Contact Douglas Cooling & Heating today for help with all your heating and cooling needs.