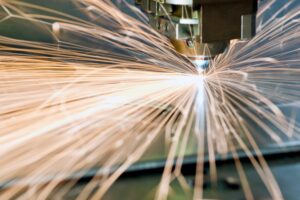 Sometimes you need help with a project that goes above and beyond the basics. Not every company can meet those needs, but we may be able to.
Sheet metal fabrication in Birmingham, AL is necessary to create a fully functional HVAC system. This is because sheet metal fabrication is what is used to create your ductwork.
As we all know though, ductwork isn't always a "one size fits all" solution. Different homes and businesses require different layouts and sizes of ductwork. You need your ductwork to be able to handle your heating and cooling needs properly. Investing in custom sheet metal fabrication is a great way to achieve this goal from the start and you can trust our team to handle the job.
What Is Sheet Metal Fabrication?
You may be able to guess from the term, but we want to clarify what exactly sheet metal fabrication is. This is the creation of different products with the use of sheet metal such as aluminum or steel. In most cases, sheet metal fabrication is used to create ductwork and some other parts that are necessary for the heating and cooling systems.
What Is Metal Fabrication Used For in a Home
The majority of sheet metal fabrication will involve the creation and repair of your ductwork. This is usually going to be important to replace a section of ductwork that is seriously damaged.
Why Invest in Custom Ductwork?
As we touched on briefly above, not all homes or businesses are the same. Similarly, there is no singular layout of ductwork that will fit every space's needs.
If you are getting ductwork added to your home, you'll want to make sure that those ducts are made to suit your needs best. This includes taking your floor plan into account, planning for the total square footage of the space being heated and cooled, and even planning for what HVAC systems will be used. This can also account for unique ductwork solutions such as rectangular ductwork, spiral ductwork, roof curbs, and more.
If you already have ductwork in your home, there are still situations to reach out to us for sheet metal fabrication work. One of the most common reasons is when your ductwork has aged and become too damaged and worn down to be repaired. When sections of your ductwork need to be replaced, you can come to our team to get the job done accurately and properly.
A Great Benefit Of Custom Ducts: Cash Savings
One of the biggest benefits of sheet metal fabrication for your home or business is that it can help save you money in the long run. Rather than trying to "make do" with a pre-fabricated duct solution or endless ineffective repairs, you're getting a solution that fits your needs exactly. This can improve energy efficiency and comfort, along with preventing the need for future repairs.
Get the duct solutions you need today. Contact Douglas Cooling & Heating to schedule your appointment or learn more. Your experience is what matters most!