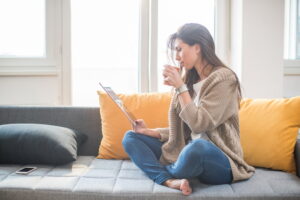 Many of us are probably trying to enjoy the sunshine around here while it lasts. Cooler weather is ahead of us and approaching faster than some people may like. However, this isn't a bad thing as it gives our air conditioners a break and puts us into a season when we are encouraged to spend extra time with loved ones. Decorating and layering up isn't the only ways to prepare for the months to come though.
While you switch gears to prep for small family gatherings and cool weather events, we hope you'll take some of the tips we've listed below into regard. These tips can help you be more prepared for cooler weather so you can enjoy a more comfortable and cost-effective season.
5 Tips to Prep Your Home For Colder Weather
No one wants to wake up one morning to an overly chilly home that they just can't warm up. Instead, it is a great idea to prepare your home ahead of time so when you are greeted by that chilly start to your day, your biggest concern is throwing on a sweater and turning on the heater.
Make sure vents and registers aren't blocked or dirty. When you turn on your heater, the hot air being blown into your home should be able to exit your vents and fill the room unhindered. If you have vents that are clogged with debris or blocked by decor or furniture, however, it will mess with that airflow. Make sure to check that all of the vents in your home are clear of any blockages.
Check and/or change out your heater filter. Your heater's air filter stops dirt and other debris from wreaking havoc on the internal components of your system. Filters don't last forever though. If you haven't already, make sure to check your heater filter and change it out or clean it (depending on the type of filter you have) to keep the airflow into your heater clean and strong.
Examine doors and windows for air leaks. Imagine the frustration of watching the warm air your heater works hard to produce be whisked away outside. If you have air leaks around your doors and windows, this is going to happen. Take a stroll around your home and check for leaks and drafts around your doors and windows. These can be addressed with weatherstripping or caulk.
Keep temperature settings lower during the day. During the day temperatures are often a bit more bearable. Make sure to keep the setting on your thermostat a little lower during the day. This decreases your energy use and the stress on your heater without hindering your comfort.
Schedule maintenance and repairs with a pro. Last but not least, make sure to have a trained professional be the one to perform maintenance and repairs on your heater. Only a technician with the right tools, experience, and licensure should be allowed to perform these vital HVAC services in Pelham, AL.
When you need heating system help, contact the pros at Douglas Cooling & Heating. Your experience is what matters most!