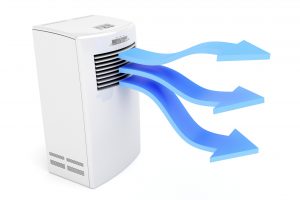 Spring is almost over, and the weather is already starting to get quite warm on a daily basis. If you're not already relying on your air conditioner to keep cool during the daylight hours, you will be soon. For many of us, getting our air conditioners ready for the added heat of summer just means scheduling preventive maintenance. For some of us, though, now is the time to install an entirely new air conditioner. If your air conditioning system just can't keep up with demand anymore, you should consider one of the following options to replace it.
Central Air Conditioners
There's a reason that the central air conditioner is the most common air conditioning type in the country. They're affordable, fairly effective, and most homes are already outfitted with the infrastructure necessary to support them. If you're just looking for a system that will keep your entire home cool throughout the hot months of the year, a central air conditioner is a good choice. They do have certain energy efficiency problems related to how they distribute air, but not enough to negate their benefits.
Heat Pumps
A heat pump system is constructed very much like an air conditioner, with one unit inside absorbing heat and one unit outside venting it into the surrounding environment. The big difference between heat pumps and air conditioners, though, is that a heat pump contains a part called the reversing valve. This valve enables the system to change the direction that refrigerant flows through it, so that it can act as either a heater or an air conditioner. Most homeowners install heat pumps for this reason, as it saves money and space over using two separate systems for climate control.
Ductless Mini Splits
A ductless mini split is a heat pump that doesn't use ducts. Instead, an air handler is installed in each room that requires air conditioning. Up to four air handlers can be connected to a single outdoor condenser coil. Because each air handler has its own thermostat, it can have its own ideal temperature set for that room without disturbing the rest of the home. Ductless mini splits offer a much finer degree of control over indoor climate than central air conditioners do. They also prevent wasting energy on rooms that don't require air conditioning. Because ductless mini splits are heat pumps, they can also act as heating systems if need be.
Geothermal Systems
Geothermal heat pumps use underground pipe loops to exchange heat with the home, rather than the air outside like most heat pumps do. Making use of subterranean thermal energy, which remains near-constant despite the weather aboveground, means that the geothermal system always has access to whatever it needs to keep the home comfortable. If you're concerned with dropping heat pump efficiency during the winter months, which can happen on occasion, a geothermal system is a good solution.
Douglas Cooling & Heating provides comprehensive air conditioner installation services in Birmingham and throughout Vestavia, AL. If you need a new air conditioner, contact us today to schedule an appointment with one of our experts.