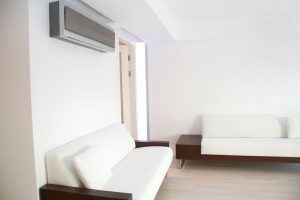 In the market for a new heating (or air conditioning) system? Not sure which system to go with? Don't worry. You're not alone. It's a pretty common problem for homeowners to become overwhelmed and discouraged by the task of sorting through the HVAC market to find the system that fits their needs the best. Fortunately, you don't have to go through it alone!
We recommend consulting with a professional in person to find the best HVAC system for your home's needs. While you're waiting for your appointment, though, there's no reason you can't do some research on your own! Today, let's go over some of the reasons why you might want to install a ductless mini split system in your home.
What is a Ductless Mini Split?
A ductless mini split is a heat pump, which means it can change the direction that refrigerant flows through it in order to act as either a heating or air conditioning system. Unlike other heat pump systems, though, ductless mini splits don't use ducts. Shocker, right? Instead, a ductless system is comprised of a series of smaller air handlers. One air handler is installed in each room of the house that needs to be conditioned, with up to four air handlers connected to an outdoor unit. This means that you won't be able to condition every room in the home, of course, but a single air handler can cover a surprising amount of square footage. Each air handler has its own thermostat to control it, allowing it to operate with a degree of autonomy from the rest of the system.
Advantages of Using a Ductless Mini Split
A ductless system has a lot of advantages to offer when compared with other options on the market. First, you can save a lot of money and space in your home by using just one climate control system over the course of a year instead of two separate ones.  Second, being able to use each part of the system as need be can save a lot of money while also being more convenient than a centralized system. Want to change the temperature for the room you're in, without bothering anyone else in the house? You can do that! No more warring with family or roommates over a single thermostat! You can also make sure that only the rooms in active use are receiving climate control. No sense in air conditioning or heating a room that no one is going to be using, right?
So, if you're looking for a climate control system that will offer you more control over your climate, and save you money at the same time, we recommend that you consult with a professional technician about finding a ductless mini split.
Douglas Cooling & Heating provides full ductless AC Installation services in Birmingham, AL. If you need help installing a new ductless system in your home, contact us today to schedule an appointment with one of our professional technicians. We'll find the best system to meet your needs.