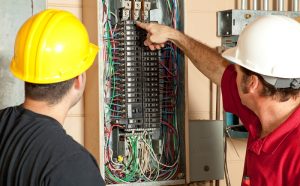 Without a good electrical system in your house, there's very little modern technology that would end up working right. Issues with your electrical services can not only leave you in an uncomfortable or even dark home, they can even create safety hazards.
Keeping your electrical system in good working order is important. That's why you need to work with professionals to keep your electrical appliances and system in check. When you need expert electrician services in Shelby County, AL, you can trust our team to provide whatever you need.
Here are some of the services that you can trust our team or professional electricians to take care of.
Help with fan installation and repairs
It may not seem like now is the time to think about getting a fan installed in the house. But why wait until you are sweating in a hot house to get the job done? You can reach out to us to talk about installing ceiling fans and/or an attic fan. These systems can improve airflow and improve energy efficiency in your home too. We won't stop there though, you can trust us to help with upkeep and repairs to keep these systems running.
You need expert wiring and rewiring
Wiring is vital to all parts of your electrical system. Running wires in the wrong way can end up increasing the risks of electrical arcing, electrical surges, and other problems. That's why you should work with a professional for all of your wiring needs. We'll get your wiring job done properly the first time or we can help with rewiring to address improper wiring done in your home.
Keeping indoor and outdoor lights on
Reliable lighting inside and outside of your home is highly important. Our team understands that fact and that's why we can help address lighting fixture installations and repairs. From installing outdoor lights like security lights or figuring out why you have flickering lights in the house, you can count on us to keep things bright.
Upgrading electrical panels
Your home's electrical panel may be outdated and struggling. This can lead to an increased risk of power surges, circuit trips, and other problems. As homes modernize, the amount of electricity a panel has to handle will increase. That is why it is a good idea to have your electrical panel check out and upgraded if needed.
Replacing outlets
Burnt-out outlets in the house? We can help with this too. For starters, we can figure out what is causing your outlets to be damaged. Then we can get new outlets in place, including installing GFCI or AFCI outlets where needed.
As we said these are just some of the electrical services we can provide. You can count on our team to assess and address any electrical needs you may have. This is why we've been serving homes in the area since 1972.
"Your experience is what matters most!" Contact Douglas Cooling & Heating today to get your electrical service needs taken care of.