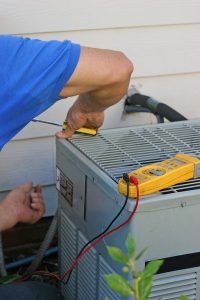 We know, it's winter, so who's thinking about their air conditioner? We understand how this might seem a little odd, but there's really no better time to think about replacing your air conditioner. Replacing your air conditioner in winter is a great idea because it's the offseason. Think about any problems you had with your air conditioner this summer, now is the perfect time to alleviate these problems. Since this is the air conditioner off-season, you'll be able to do extensive research while saving money for the expenses of this service. Now is the right time for a new air conditioning system in your home. If you need AC replacement in Birmingham, then contact our team today.
Signs You Need AC Replacement
Do you know the signs of your air conditioning going out? Watch out for these problems:
Low Airflow
Is the airflow through your home less than satisfactory? When your air conditioner runs, you should feel a steady stream of air flowing through your home. If you're not feeling a steady stream, it's probably time for you to replace your air conditioner. A weak flow of air through your home is frustrating and energy-inefficient. If this is something you're experiencing, it means that you're wasting energy, time, and money on a defunct air conditioning unit.
Old Age
How old is your air conditioner? If it's between the ages of 10 to 15 then you should think about replacing your system. Even with impeccable care and maintenance, an air conditioner is only built to last you so long. When you push your system past its limits, you'll only worsen problems and spend unnecessary money on repair costs.
If your air conditioner is in this age range and you're having constant problems with your system, it's especially important to plan for the future. An old system will always have to be replaced and an old system having persistent problems is even more of an urgent matter.
Lukewarm Air
The air coming from your air conditioner should be cold. If you're feeling lukewarm air blow through your home, then it's time to call a professional. Lukewarm air in your system has an array of possible causes, the only way to be sure of the source of the problem is through the analysis of a professional.
Strange Sounds
So you come home from a hot day here in Birmingham, turn on your air conditioner, and hear some odd noises emitting from your system. If this has been a consistent or recurring problem in the past, it's time to start thinking about upgrading to a new system. Odd noises coming from your air conditioner aren't just a minor inconvenience, they're a sign of fault within your system. The problem could be anything from a failing motor to a faulty thermostat depending on the noise you're hearing. If you want to be sure of the source of the problem and you want to take the right steps to fix the issue, call a professional from our team.
If you need to replace your old air conditioner, contact our team here at Douglas Cooling & Heating today to schedule an appointment.