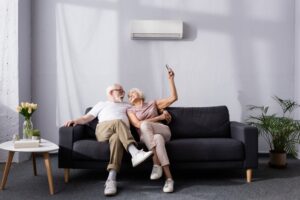 If you're looking to make the most of your home or business without building an addition, you might have been eyeing a garage, unfinished basement, or attic space and wondering what it would take to turn that into usable living or working space.
In Alabama, it's critical to keep the temperature and humidity under control in order for people to be comfortable in the space. What's the best way to do that while making room for your expanding family or business? You can cool the space and lower humidity with a mini split AC. 
What Is a Mini Split?
Mini splits are air conditioning options that are ductless. Air handlers are mounted on the walls, and each has its own thermostat, allowing for zone control, so you only cool the spaces you need to. This, combined with their motors, which are smaller than those in central AC units, makes them extremely efficient. In fact, a mini split could be 30-50% more efficient than other methods of heating and cooling.
Heating and Cooling?
In combination with a heat pump, these systems can provide heating as well as cooling. The flow of refrigerant through the system can be reversed, so heat can be brought into the home or business when it's chilly and be carried out and released when it's too hot. 
Why Not Use the Central AC?
Most homes built in the last fifty years have ductwork for central air conditioning. This is a great system, and with some renovation, additional ducts can be added to expand the system of ductwork. However, unless you were already planning to replace your central air conditioner, you don't want to add to its workload.
It was selected after your home's layout and square footage were carefully evaluated. When the space becomes larger, the air conditioner will no longer be as effective, and it will keep trying harder and harder to get the job done until the wear and tear causes an early system retirement.
Other Mini Split Benefits
In a small space such as a garage, you don't want to use up your newly claimed square footage with ducts. And the mini split you would need for such a space would be small. The components would be close together, making maintenance and repair quick and easy.
We mentioned that these systems use small motors, which keeps efficiency high and operating costs low, but it also keeps sound levels low. A Mitsubishi mini split is very quiet compared to a noisy portable or window AC unit. 
The Professional Touch
These systems require professional installation in order to maintain their warranties and ensure that they operate efficiently. And before you decide what system you'll use for the new expansion of your home or business, get the help of a qualified professional in assessing the needs of the space, so that the climate control option you choose will keep you happy and comfortable in the long term. 
"Your experience is what matters most!" Contact Douglas Cooling & Heating today for help with all your heating and cooling needs in Birmingham, AL.