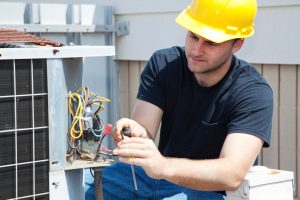 We've got a couple of months yet before the weather starts to cool off. However, it's not a good idea to wait until heating season to get your home ready for it. Specifically, it's a good idea to have your heat pump professionally checked in the next couple of months. Even if you had maintenance done earlier in the year, it's still a good idea to have it done again this fall. Have a look at some of the reasons why your heat pump needs maintenance more often.
Prevention vs. Cure
If you want to get the best return on investment for your heat pump, it's in your best interest to keep it in top condition for as long as possible. That means limiting the effects of wear and tear on the system, and the problems that result from that. Most issues that occur with heat pumps happen slowly and subtly, at first. By the time a problem has progressed far enough to start showing obvious symptoms, it likely will have already caused quite a bit of damage. That's not ideal. If you want to catch problems with your system as quickly as possible, you need to have them dealt with before they start developing warning signs.
Preventive maintenance appointments give your technician the chance to pinpoint areas that are developing problems, and resolve them before they get any worse. Doing this on a regular basis makes your heat pump more energy efficient, less likely to develop problems, and can potentially save you thousands of dollars in repair costs. If you want to actually reap the benefits of heat pump maintenance, though, you need to make sure that you schedule it often enough. That brings us to our second point: why bi-annual maintenance is so important for heat pumps.
Bi-Annual Maintenance
Most dedicated climate control systems only have one season out of the year when they're under an increased amount of stress. For air conditioners, this is obviously in summer, and for heaters it's winter. Preventive maintenance once a year is enough for those systems, typically scheduled the season before they're going to be put under increased stress. Heat pumps, however, are a bit different.
A heat pump is used all year-round for climate control. This means that it wears down twice as fast as other systems. If you want to benefit from preventive maintenance for your heat pump, you're going to need to schedule maintenance for it twice as often. Spring and fall are the best times to schedule preventive maintenance for a heat pump system. However, it's better to have it done later on in the year than not to have it done at all. If, for whatever reason, you miss the normal maintenance window, you should still schedule it as soon as you can.
Douglas Cooling & Heating provides a full range of heat pump maintenance services in Birmingham, AL. If you need to have maintenance work done on your heat pump, contact us today for an appointment.