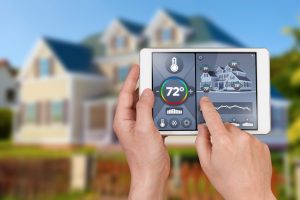 So, you just bought a brand-new heater for your home and you couldn't be happier, right? Well, what if we told you that your new heating system is only going to work efficiently and effectively so long as you have a great thermostat controlling it.
See, what many homeowners don't realize is that their thermostat is just as, if not more, important than the heating system itself, which is why we recommend upgrading to a smart thermostat. In fact, there are many benefits of upgrading your thermostat, and below, we have listed some of them for you. All you have to do is keep reading to find out more, and of course, remember to schedule your heating services in Birmingham with us!
Ready for an Upgrade?
There are plenty of reasons to consider installing a smart thermostat in your home, including:
Accuracy
If you live in an older home and you haven't yet replaced the thermostat, chances are, you own a manual thermostat. A manual thermostat is any thermostat that you set manually by using a dial or a sliding switch. Often, it can be hard to see where things line up, leaving you to question if the mark on the dial is at 69° or 70°. Although this may not seem like a big deal, this confusion can make a big difference in terms of efficiency.
Fortunately, smart thermostats have a digital display, ensuring that you never have to second guess whether the temperature your reading is correct! This is a simple, yet effective, way to save!
Programming
Far too often, your heater and AC have to work much harder than normal to keep your home comfortable, even when you're not there! This is where a programmable thermostat comes in handy. Just by lowering the temperature by a couple of degrees at night or while you're out of the house during winter, you can dramatically cut heating costs.
A programmable thermostat allows you to create a custom heating or cooling program based around your personal schedule. That way, you will never have to worry about forgetting to adjust the temperature when you step out of the house for the day.
Wi-Fi Capabilities
Thermostats with Wi-Fi capabilities allow homeowners to access their HVAC systems from anywhere in the world as long as they have access to a smartphone, tablet, or laptop. So, no more worrying about rising utility costs when you go on a vacation!
Additionally, some smart thermostats are capable of learning your heating and cooling preferences, and within days, it can create a program with the most efficient settings just for you!
Hire a Professional!
If you are interested in having a smart thermostat installed in your home, contact a professional! Only a professional has the knowledge and expertise to match you with the thermostat that is going to best meet your unique comfort and budget needs. Trust us, when it comes to your comfort, you don't want to take any risks.
Ready to make the switch to a smart thermostat? Great! All you have to do is contact the team at Douglas Cooling & Heating today to get started. Your experience is what matters most!