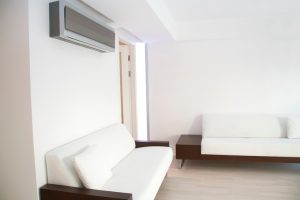 There are a lot of different options for both heating and air conditioning systems available on the market today. If you're looking for a new one, you have a lot of research to do. Chances are, you can find several systems that will do well enough for your home's needs. If you want to find the best one you can, though, you're going to need to carefully consider the pros and cons of each option. Let's take a look at ductless mini splits, and what one could do for your home this season.
What is a Ductless Mini Split?
A ductless mini split is a heat pump that doesn't use ducts, instead relying on air handlers to condition each room individually. Up to four air handlers are installed in the home, which are connected to a coil unit outside. Each air handler has its own thermostat, which allows it to operate with autonomy from the rest of the system. As is the case with all heat pumps, a ductless mini split is able to offer both heating and air conditioning functions by changing the direction that refrigerant flows through it.
Advantages of Using a Ductless System
Ductless mini splits are useful for both cutting energy costs and making your home more comfortable. Homeowners like them because they don't have to rely on any other system to keep the home comfortable year-round. Since each air handler operates separately, you don't have to worry about making anyone else in the house uncomfortable when you set the temperature in your room. You also don't have to worry about wasting energy cooling or heating rooms that don't currently have anyone in them.
Things You Should Consider
Ductless mini splits certainly have a lot to offer in terms of advantages, but they also have a couple of unique considerations you should know about if you're thinking about having one installed. First, most homes are not designed to take advantage of ductless systems already. You can still have one installed if you want, but it will probably mean some extra construction work. Of course, that's no problem if you have a professional contractor you trust handling it for you.
The second consideration is that ductless systems wear down faster than other air conditioners and heaters. This is because they're used year-round, and the added demand means they are more prone to developing issues. Scheduling preventive maintenance twice a year, once in spring and once in fall, should mitigate this problem, though. Again, just make sure you have a contractor you trust handling it and there should be no problem. If the advantages are worth putting a bit more effort into the system for you, then by all means consult with a professional on getting a new ductless mini split installed in your home!
Douglas Cooling & Heating offers comprehensive ductless mini split installation services throughout Pelham, AL. If you need ductless services of any kind, contact us today to schedule an appointment with one of our expert technicians.