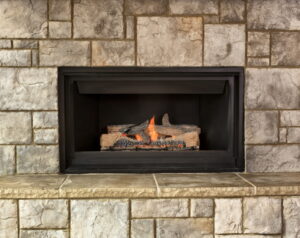 Have you ever noticed just how much a good fireplace can add to a room? Not only does a fireplace offer you some warmth, but it also serves as a focal point for whatever room it is in. It helps improve comfort and ambiance.
If you are looking at getting a fireplace installed in your home or you need a different fireplace service in Shelby County, AL, our team will be the one you can count on. You can learn more about your fireplace service options below.
Gas Fireplace Installation
You've made the decision that you want a gas fireplace in your home. We understand why. Gas fireplaces offer all of the best visual qualities of a fireplace without the drawbacks that come from a wood-burning fireplace.
Gas fireplaces are highly efficient when set up to provide heat for the home. If you aren't looking for heat though, you can enjoy a different setup that minimizes the heat output and uses a minimal amount of energy in the process.
While a gas fireplace is set up differently than a wood-burning one, it does require expert skill to get the job done right. This is especially true because you are handling a gas line connection. There are too many things that can go wrong with your gas fireplace if the installation goes wrong.
One last thing: you are able to switch from a wood-burning fireplace to a gas one! As long as there is a pre-existing gas line connection in your house, we can provide a gas fireplace insert for you.
Fireplace Maintenance and Repairs
You have a gas fireplace that you love so it makes sense that you'd want to keep it in the best possible condition. Much like how your heater needs maintenance and repairs as needed, your fireplace will require professional upkeep over the years too. Thankfully, these are also services that our team provides.
From cleaning creosote out of your fireplace and chimney to fixing gas burners within your fireplace, our team has the tools, training, and experience to keep your fireplace in optimal condition. Be on the lookout for signs of trouble such as weak flames, delayed ignition, and bad smells to determine if you need to reach out to us for professional assistance.
Why You Need Expert Fireplace Service
Let's be clear here, any fireplace service needs to be performed by a trained professional. This is for multiple reasons.
Safety: Handling or servicing any gas line, gas connection, or gas burner can come with serious safety risks. Working with a professional keeps safety risks to a minimum.
Quality: A professional will arrive with the tools and training necessary to service your fireplace properly.
Legality: While regulations may differ by state, it is by and large illegal to service any gas system, including a gas fireplace, without the right licensure or certifications.
Do you need help with your fireplace? You can come to us for quality, professional service.
Contact Douglas Cooling & Heating to schedule your fireplace service. Your experience is what matters most!