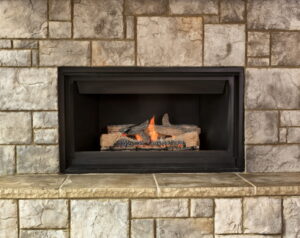 Gas fireplaces have many advantages. They're beautiful without being messy like wood-burning fireplaces. They're efficient and convenient to operate. But the sad truth is that they do not last forever. Many gas fireplace troubles can be resolved with repair, but the day will come when your fireplace needs to be replaced. Here's what to watch for.
Age
Similar to a natural gas furnace, a gas-burning fireplace has a life expectancy of around 15 years. Having annual maintenance done will help to ensure that it does reach that age. But after that point, repair needs will become more frequent, and no amount of maintenance will be able to restore it to quite the same level of efficiency and effectiveness it had when it was new.
Repair Needs
If your gas fireplace requires a major, expensive repair, it's worth considering the age of the fireplace and how many years of life you're likely to get out of it once you pay for that repair. Many small, frequent repair needs could also be a sign that your fireplace is ready to retire. At a certain point, it's no longer worth investing in repairs.
However, if your fireplace is not nearing 15 years of age and this is the only major problem it has encountered, fireplace repair in Pelham, AL is the better option. You may be able to keep your fireplace running for many years to come.
Safety Concerns
If anything has occurred that makes you question whether your fireplace is safe to operate, you need the help of a professional to assess whether repairs are needed or if your fireplace should be replaced. If you see smoke or soot, smell anything at all, have trouble with your pilot light, or the fireplace turns off unexpectedly, turn it off and get a technician to inspect it immediately.
Upgrading
You may consider replacing your gas fireplace just for the sake of upgrading. This could be because newer technology is more efficient, with improved controls, better heat circulation, and new, highly effective safety measures. 
You might consider replacement just because you like the look of a particular model of fireplace, or because you are planning to sell your home. A new gas fireplace can significantly increase the perceived value of a home and may be a fantastic investment when you're selling.
Professional Gas Fireplace Technicians
The most important thing when it comes to your fireplace or other gas appliances is that you never try to repair it or replace it on your own. DIY repair or installation of gas-burning appliances is extremely dangerous and can cause immediate explosions or slow gas leaks leading to carbon monoxide poisoning. Local regulations require that people working with gas be licensed, and amateur work will void warranties.
Professional technicians are highly trained, qualified, licensed, and insured. We take safety extremely seriously, and all installations and repairs are performed with an eye to the future, to make sure that you will be satisfied with our work for years to come.

"Your experience is what matters most!" Contact Douglas Cooling & Heating today for help with all your heating needs.