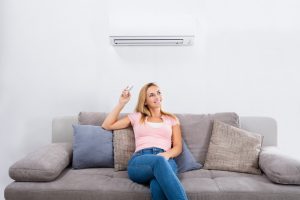 Owning both a great heater and air conditioner is not only a luxury, but a necessity. So, why not invest in a system that can do both? A ductless system serves as a singular alternative to owning both a heater and an air conditioner. It is versatile, highly efficient, and very effective. As a homeowner, it is important to create a comfortable and efficient environment inside your home, and a ductless system will allow you to do just that! So, if you are in the market for a new heating or cooling system, consider going ductless!
Investing in professional residential heating services in Birmingham is the best way to ensure that your new system is the best choice for your home, as not all systems have the same capacity and capabilities. Installing a ductless system is definitely a worthwhile investment. Keep reading below to learn more about the benefits of installing a ductless system. 
What is a Ductless System?
A ductless system, also known as a ductless mini-split, is a heating/cooling system that does not rely on a network of ducts. Instead, it utilizes an outdoor condenser unit that is connected via refrigerant lines to multiple air handlers installed throughout the house. A ductless system works much like a traditional air conditioner, using a refrigerant cycle to transfer heat from one place to another.
What sets the ductless system apart from a traditional AC is that a ductless system has a reversing valve that homeowners can use to reverse the flow of refrigerant. This allows for both summertime cooling and wintertime heating.
What are the Benefits?
1. Versatility
Ductless systems are quite versatile, as they can be used year-round! By using the reversing valve, homeowners can flip between "heating mode" and "cooling mode".  So, if you are looking for a great 2-in-1 system, consider going ductless!
2. Efficiency
Ductless systems are highly efficient, saving homeowners hundreds of dollars on annual heating costs. There are a number of reasons why the ductless system is so efficient. Firstly, ductless systems do not have to generate their own heat. Instead, they transfer it from one place to another, thus reducing the amount of fuel needed for operation.
In addition, multiple air handlers make it so that homeowners have the ability to control exactly which rooms will be heated or cooled. Plus, they have the added ability to control the temperature of the air going into each room. With a ductless system, you can eliminate the need to heat/cool unoccupied spaces.
And since ductless systems do not have ducts, you can avoid the energy losses associated with duct leaks. It has been estimated that up to 30% of conditioned air can escape through faulty ducts, so with a ductless system, you will never have to worry about that.
3. Cost and Convenience
Installing ductwork can be an expensive and difficult process depending on the layout of your home. However, installing a ductless system is less invasive, inexpensive, and can be completed in as little as one day.
Lastly, you will no longer have to worry about repairing, replacing, and maintaining two different HVAC system when you go ductless.
Be sure to contact Douglass Cooling, Heating, & Electrical for all your ductless needs.