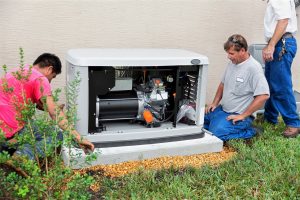 We're right smack in the middle of tornado season, which means that you might be experiencing some power outages over the next couple of months. That's probably pretty far down your list of concerns in the middle of a tornado, but keeping the lights on in the event of a power outage is still an important thing to consider. If you have to cope with power outages in your home multiple times a year, a whole house generator might be the perfect solution for you.
Whole House Generators
A whole house generator is a larger system, compared to portable generators that are often stored in the house itself. The whole house generator is installed outside the home, and is permanently wired into the home's power system. Also unlike a portable generator, a whole house generator does not rely on gasoline in order to provide power. Instead, the generator has its own natural gas line running to it. This ensures that the system always has the means to provide power available to it.
Among the most popular types of whole house generators are automatic standby generators. These systems monitor the amount of power running through the home's power system at all times. When the power goes out, the generator activates automatically and begins to supply power to the system. When the power comes back on again, the generator shuts itself off.
Advantages of Whole House Generators
Aside from the advantages of automatic power generation, whole house generators can provide more than enough power to keep the entire house running. Portable generators are smaller, manual systems. They're designed to only provide enough power to keep the lights on, and other minor necessities. A whole house generator is far more useful if you have higher power requirements, or you have certain equipment (like medical equipment) that must remain powered at all times. With a whole house generator installed, you can rest assured that your power needs will be met even in the middle of a large power outage.
Professional Whole House Generator Installation
You should never attempt to install a generator for your home yourself, regardless of whether it's a portable or a whole house type. The danger is much greater if you try to install a whole house generator yourself than if you tried it with a portable system, though. Because a whole house generator requires its own natural gas supply, you will likely need to have a gas line installed. That kind of thing should only ever be handled by a professional, as working with natural gas can be extremely dangerous. The generator itself is also very large and heavy, requiring the efforts of multiple people to install it. If you want to have a whole house generator installed in your home, it's far better to count on a professional to do it for you.
Douglas Cooling & Heating offers a full range of whole house generator installation services throughout Birmingham, AL. If you need whole house generator services, contact us today for an appointment.