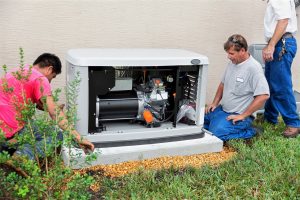 Sure, you may not need to use your generator often, but in the event that you do need it, you want to be certain that it's working properly! Didn't you buy your generator to keep you and your family comfortable safe in the event of an emergency?
There are a number of signs that suggest your generator is in need of repairs, and below, we have outlined some of them for you. All you have to do is keep reading below to find out more (oh, and of course, remember to contact our team when you need an electrician in Hoover, AL!)
Signs Your System Needs Repairs
Like we mentioned above, there are a number of signs that suggest your generator is in need of repairs. Here are a few of them:
Difficulty Starting
There are a number of different reasons why your generator doesn't start when it's supposed to. For one, it is possible that the system isn't getting the fuel it needs from the natural gas line, or if you own a refillable system, it's possible that the system is low on fuel. Secondly, it might just be that the generator's battery has drained, which is entirely possible during periods of inactivity. Either way, it is best to call in an electrician for repairs.
Sudden Shutdowns
If your generator suddenly turns off while in use, there could be a number of different things wrong with it. It could be that the battery has died, the system has overheated, or that it's low on coolant. It is also possible that one of the components, like the belts or block heater, needs to be replaced due to wear and tear. Fortunately, a professional generator technician will be able to tell for certain.
Leaks
The longer a generator lasts, the more likely it is to spring a leak from a hose, line, or storage pan. Leaks can include oil or fuel (depending on the kind of generator you own) as well as coolant designed to keep the engine block from overheating. So, if you notice that there is any liquid coming from your system, be sure to contact a professional for repairs right away.
Exterior Damage
If the unit sustains any kind of exterior damage, it should be looked at by a professional as soon as possible. Things like frayed wires and damaged buttons can certainly impact the operation of your system, so it is best to have it repaired before the next power outage.
Yes, You Need to Hire a Professional
If you are in need of generator repairs, do not hesitate to call in a professional electrician for help! Only a professional has the tools, training, and experience to safely and accurately handle the complex needs of your generator, the first time around.
And yes,  there might be plenty of amateurs willing to service your system, but remember, sometimes an attempt to save money could end up costing you much more in the long run.
Schedule your generator repair services with the team at Douglas Cooling & Heating today! Your experience is what matters most!