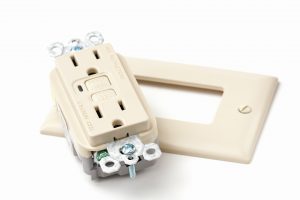 When you think about the electrical system in your home it is likely that your mind goes to the wires in your walls or even the breaker box or electrical panel for the home. What you might not immediately think of is your outlets. Not many people do, to be honest!
Believe it or not, there is more than one type of outlet and it really does matter which one goes where in your house. Why? Because the difference can lead to electrical safety issues.
If you don't already know about the different types of outlets that can be installed in your home, and what their roles are, allow us to give you some information. Your outlets can be important in keeping your appliances, and you, safe.
What To Know About Your Home Outlets
There are two key types of outlets that you should know about. Each of these is made outlets to us in your home and serve different safety purposes. This is what you need to know about GFCI and AFCI outlets.
Everything about GFCI Outlets
Ground Fault Circuit Interrupter outlets or GFCI outlets are electrical systems that are meant to protect your home and family from electrical shocks. These systems are made to help in rooms that see extra moisture which could cause a shock risk, such as bathrooms or laundry rooms. A GFCI outlet will monitor the power going into a device that is plugged into it (ex. a hair dryer) and if a problem occurs (dropping the hair dryer in a puddle on the bathroom floor), the GFCI picks up on the interruption in the electrical current and cuts the power to the appliance.
Details on AFCI Outlets
An AFCI outlet or Arc Fault Circuit Interrupter is supposed to help protect your home from electrical fires. An AFCI outlet does this by monitoring the electrical flow in your system so it can detect any malfunctions in the circuit. If the AFCI detects a problem it breaks the circuit to prevent additional risks. While not too different than a GFCI outlet, an AFCI isn't going to be as helpful with areas that encounter a lot of extra water.
Only Work with a Licensed Pro
When you need to update the electrical system in your home like your outlets, your best option is to contact a trained and licensed electrician in Pelham, AL to help. Only a professional is going to be able to accurately and safely provide the electrical services you need.
The team at Douglas Cooling & Heating is happy to provide you with help with your electrical services in the greater Birmingham area. Our master electricians are locals in the area so we know what you need to keep your home running and safe. Whether you need electrical installation services, repairs, replacements, you can rely on our team to get the job done correctly.
Contact Douglas Cooling & Heating to schedule your next appointment. We've been serving the greater Birmingham area since 1972. Experience the Douglas difference today.