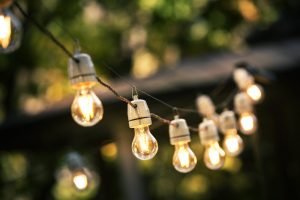 Playing with a Frisbee in the yard or having a long conversation on the porch during the afternoon is a source of great enjoyment but it can be hard not to cut these activities short when the sun sets and everything gets dark. What if we told you that you don't have to cut your evening short because you can't see the Frisbee? No, we aren't pitching night vision goggles and your lantern can stay in the garage for emergencies.
You can light up your outdoor environment with outdoor lighting this summer to extend your time with friends and family. We want to strongly suggest though that you don't attempt this on your own. We're sure you are handy with a toolbox but when it comes to installing electrical appliances, especially ones that are meant to work outdoors, you want to leave that to the professionals at Douglas Cooling & Heating.
Why Consider Outdoor Lighting?
So, what are the benefits of adding outdoor lighting to your home's exterior environment? There is more than one perk to this choice aside from being able to see that Frisbee when your child tosses it toward you.
Added visibility and time spent outside: This is the first perk because it is the best one that most people enjoy. When you add outdoor lighting to your backyard or front yard it will give you the ability to spend some extra time outside, whether it be for BBQing or playing with the kids.
Increased safety and security: When you add lights to the exterior of your home, it will help to increase your safety and security. Outdoor lights will reduce the risk of people tripping on unseen obstacles when they are coming to visit. What's more, lights above your garage or front door help with security by dissuading thieves from trying their hand at getting in your house.
Added ambiance: Outdoor lights aren't just recessed lighting or pointed lights that are attached to the side of your home. Outdoor lights can now add to the ambiance of your home as they can be hanging lights draped across the yard, faux lights posts, small solar lights that are lining a pathway, and more.
Better reliability: When you have a professional install your outdoor lighting, they are going to make sure that those lights are fully connected and reliable. This means that, rather than struggling to find batteries for that lantern while you are BBQing, you can flip a switch to turn on your lights and know they will be shining as long as you need to.
Only Trust a Professional With Your Outdoor Lighting
When it comes to your outdoor lighting, you really want to have a trained professional electrician to be the one to do the job. We can install your outdoor lighting so it works not only reliably but also as safely as possible which is especially important when you need your electrical appliances to make it through the wetter seasons.
When you need a reliable professional to help light up your outdoors, contact Douglas Cooling & Heating. Your experience is what matters most!