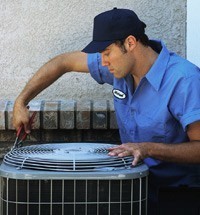 Keeping your home cool during the summertime here in Alabama is no small feat. It helps to have an effective and energy-efficient air conditioning system in your house to make things livable. However, things won't be as comfortable or affordable if your air conditioning system isn't running at its peak. Scheduling air conditioning maintenance in Birmingham, AL is going to help with that.
You may be surprised to hear, or read, that you can still get a tune-up on your air conditioner this late in the season. You definitely can and we would like you to know why it will still benefit you.
Late Maintenance is Better Than None! Here's Why:
Whether you have started to notice a slight uptick in your monthly utility bills or just a minor downturn in your home cooling, it may mean that you need to get your air conditioner checked. Now ideally you would have gotten this check-up and tune-up done earlier in the year to help you avoid these inefficiencies but it isn't too late to get the job done so you can enjoy optimal comfort the rest of the summer. Maintenance is ultimately still going to benefit you even when it is done later in the year. Here's why:
It will improve your energy efficiency. Maintenance service provided by a professional is going to help your AC unit operate with a higher level of efficiency. This is because a tune-up helps to address a variety of small problems that could increase the amount of energy your system needs to use.
It will help to reduce your chances of a repair need. When you get your air conditioner tuned-up it will help to reduce the chances that you need to get a repair this year. Repairs should only happen every few years but, without maintenance, there is a risk that a small issue will escalate into a repair need ahead of that timeline.
It will help you save more money: Getting a tune-up, even if it is done later in the year, will help to reduce your monthly electrical bills. This is because this service will address those problems that might otherwise drive your bills up. What's more, it saves you money be delaying repair needs and keeping them smaller when they do pop up.
What Our Maintenance Services Provide
If you haven't gotten your yearly tune-up taken care of yet, you shouldn't delay on getting it done. You should reach out to a professional technician at Douglas Cooling & Heating. When you schedule your maintenance service with us, you'll enjoy service that improves the safety, efficiency, and operation of your AC unit.
You can also sign up for our maintenance program, the Douglas Care Program, to make the most of your yearly tune-up with additional benefits. This program offers perks such as priority scheduling, discounts on repairs, discounted overtime charges, transferability, and discounts on need equipment. We also provide an extra 5% off for seniors (65+) and members of the military.
Your experience is what matters most! Contact  Douglas Cooling & Heating to schedule your tune-up.