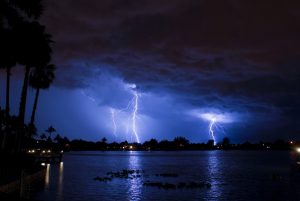 Its the season for tropical storms and hurricanes in the Florida area which means that there is every chance our region will get some rough weather too. We've already been hit with some storms in the last couple of weeks so you likely are already thinking about how best to prepare your home if anything else comes our way. The team at Douglas Cooling & Heating can offer you some helpful tips and services to get you through it.
Shut down major appliances to protect them. It may not sound like fun, but shutting down major appliances like your air conditioner can help protect them from damage that could be caused by power surges in a storm.
Make sure you have back-up supplies. Make sure you have some fresh water, canned goods, batteries, a flashlight, and any other essentials that you might need in an emergency.
Have a professional check your generator. Don't wait until the lights go out to discover a problem with your generator. Be ready by scheduling your generator maintenance, repairs, or any other generator services in Birmingham needs now to avoid issues later.
Our team wants to make sure you stay safe this hurricane season. If you need help with your home systems, contact Douglas Cooling & Heating. Your experience is what matters most!