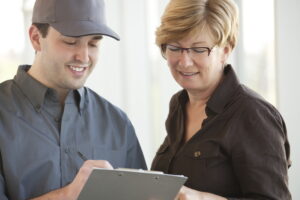 As homeowners, taking care of your comfort systems is a big responsibility. It can feel overwhelming when you suspect that your AC, heater, or electrical system isn't working as it should. It's natural to worry about the potential expense of a repair job or a system replacement, and that's why we offer free estimates.
Not only that, we always aim to provide multiple options for a single repair or replacement. That way, you can choose the option that makes the most sense for your budget and for your long-term plans for your home.
Free Estimates
Have you received an estimate from another contractor that sounds high? Or maybe you've been told that you need a full system replacement when you suspect a repair would be sufficient?
No matter how many estimates you've received, we're happy to give you another one. We believe in giving homeowners all the information they need to make an informed decision so you'll feel comfortable knowing you made the right choice when it comes to your home's systems–even if that means choosing another contractor.
Options Galore
We don't believe that there's only one solution for most HVAC repairs and replacements. That's why we strive to offer multiple options that'll accommodate your budget and your plans for your home.
Do you intend to stay in your home forever or are you planning on selling in the near future? Do you expect your household to expand or get smaller? Perhaps you want to add an addition to your home down the line? These are all things we can take into consideration when we provide one of our free estimates.
You Deserve to Be Comfortable
You shouldn't let the stress and worry about the cost of a potential repair or replacement keep you from enjoying your home. You also shouldn't ignore a minor problem that could potentially escalate into a major issue. Contact us for a no-pressure quote on what it'll take to restore your home comfort levels.
No Pressure
You never have to worry about high-pressure sales tactics from our team. We'll never try to sell you a repair or a service that you don't need.
"Your experience is what matters most!" Contact Douglas Cooling & Heating today for a free estimate!