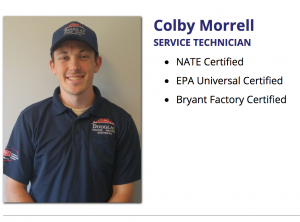 Douglas Cooling, Heating, & Electrical is proud to announce that Colby Morrell is now a NATE-Certified technician! Colby passed his test on Wednesday of last week.
All NATE exams are based on Knowledge Areas of Technician Expertise (KATEs), which represent a wide variety of perspectives on subject matter pertinent to contractors and technicians! To become certified, Colby had to pass both a Core exam and Specialty test of his choice.
NATE-Certified technicians are knowledgeable, well-trained, and highly qualified, so you can be sure to count on Colby for all of your HVAC services!
All of us here at Douglas are so proud of Colby's accomplishments! We are confident that he will continue to provide exceptional service and wish him the best of luck!