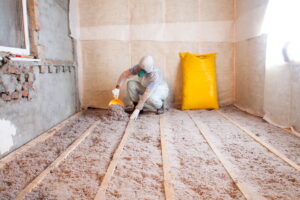 Insulation is one of the most important aspects of your house's construction. Without proper insulation, air leaks can cause discomfort, sickness, and reduced mobility. It's also a great way to reduce energy costs as it keeps heated air inside your home.  
DIY projects are great for smaller projects with limited consequences or impact, but something as big as your home's insulation should be left for the professionals. Here's why: 
Insufficient Insulation  
Installing insulation may seem easy, but there are many types of insulation available in the market, and each has a slightly different installation method. Most people underestimate the amount of insulation they will need to pack their homes properly.  
When homeowners call professionals after a failed DIY project, it's usually because the insulation was insufficient in quantity or it did not fulfill the desired purpose. They find that their utility bills are still just as high as before. Miscalculations may occur when amateurs take up insulation projects. 
Professional Tools and Equipment 
Professionals have spent years collecting the most efficient and high-quality equipment to insulate your home according to standards. Rented insulation equipment may not be as efficient due to continuous rough use. The quality of this rented equipment is lower, and they don't have the capacity to get the job done right due to outdated technology.  
In contrast, professional teams are equipped with the latest technology and are trained to use these tools in specialized workshops training sessions. There is a stark difference between the finished quality of the work done by an amateur and a professional.  
Safety Hazards 
It would be best if you kept in mind the potential hazards of installing insulation. Some insulation products might contain asbestos. Asbestos is a hazardous and toxic substance that has carcinogen properties. It requires immense care to remove asbestos from the insulation, which only a professional is trained to do. Fiberglass can also cause severe itching and allergic reactions.  
The tools and equipment used can be dangerous. Mishandling can lead to injuries and a visit to the hospital emergency. Some areas of your house may be unstable, such as the attic. Professionals have years of training necessary to provide insulation services in Birmingham and practice the correct safety measures.  
Higher Energy Bills 
Without the latest, high-quality tools and years of experience at hand, you will likely spend weeks on insulation projects. In addition to the time being wasted, you will end up getting a utility bill that takes out a chunk of your bank account.  
If you want the job done right and want to reap the benefits of proper insulation for a long time, you must hire a professional. You will save hundreds of dollars on utility bills and repair costs, exceeding the cost you might pay to a professional to insulate your home.  
Douglas Cooling & Heating provides the best value for your buck. We provide insulation services in Birmingham. Just give us a call, and we will be at your doorstep in no time. Your experience is what matters most!